Our Shower Sealing & Shower Repairs
Our shower sealing and repairs are the best in the industry. Our Stop Leak Injection system is a combination of products and procedures that allow our trained staff to waterproof wet areas without the need to remove tiles. 98% of all showers we look at can be sealed using our technology. We take pride in our work and finish most showers within 2 days, not a few hours it takes our opposition, it takes time to get things right.
We use a polymer modified flexible waterproofing grout to seal our shower, not like others who use a rigid epoxy, which cannot take any building movement and may crack and allow water to seep through. We also coat the shower with a clear waterproof seal and put a flexible mould resistant seal on all perimeter joints, we have a 3-tier approach to sealing showers. We even polish the tiles which come up like new. Have a look at the shower sealing photos below.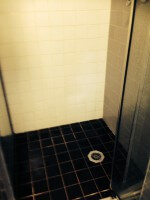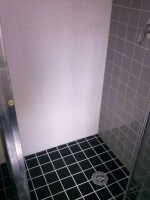 We can also re-tile and waterproof old showers if required.
We also give your bathroom a complete clean and disinfect the bathroom and shower screen, which is included in our service.
All backed by our written Guarantee
We can also re-grout and seal kitchens, balconies any tiled area needing attention.
As our motto emphasises, we apply products that are tough, durable,. environmentally friendly and can withstand the test of time. That's why we can stand by our name RhinoSeal.
Some of the products and services we offer:
Waterproofing
Damp proof course
Tiling
Leaking shower repairs
Concrete repairs
Painting services
Leaking verandahs
Bathroom renovations
Bathroom rejuvinations
Driveway sealing
Maintainence and handyman
About us
All solutions are customised according to our client's needs and you can rest assured that the RhinoSeal experience will surpass any other. Having completed projects with many major builders and Strata Companies, we are respected for our track record of success, uncompromising approach to quality and quick delivery times.
As the hide of a Rhino is more resilient than most other animals, our work reflects the same durability you can trust RhinoSeal will fulfill all your requirements.
We at RhinoSeal are licenced waterproofers and are not plumbers or handymen who pretend to know what is required. When we seal a shower or verandah we give you a solution that works. There is no guess work in what we do. We have had a 100% success rate in all shower sealing and repairs, and same goes for our verandah sealing and repairs. Please take a look at our web page on rhinoseal.com.au or call us for an obligation free quote on 0478 956 892.