Repair That Leaking shower?
We specialise in waterproofing leaking showers without removing tiles. We use our STOP LEAK INJECTION technology waterproofing system to seal wet areas. With over 25 years of experience and the commitment to uncompromising perfection, our expertise is unmatched in our industry.
STOP LEAK INJECTION is a combination of products and procedures that allow our trained staff to waterproof wet areas without the need to remove tiles.
3 Tier System – with 100% success rate
1) We grout the whole wall & floor of the shower with flexible rubberized grout. Other companies use a rigid epoxy grout, which take little or no building movement and will only grout 2 bottom rows of the wall tiles.
2) We use a clear waterproofed sealer over the walls and floor of a shower that is stain resistant and mould resistant.
3) flexible mould resistant perimeter seal.
We take pride in our work and finish most showers within 1 day! Unlike other companies which take a few hours.
We also give a complete clean and disinfect the bathroom.
All backed by our written Guarantee!
Other services we provide are retiling and waterproof old showers, re-grout and seal kitchens, balconies and any tiled areas needing attention.
Old Shower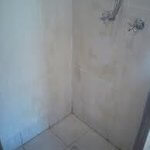 New Shower